More than 300 School leaders and teachers, municipal/regional advisors, and partners from 70 Danish schools have participated in three day workshop on building sustainable makerspaces.
During the workshop participants gained:
Hands-on experience with digital construction and understanding of maker education beyond

operational skills; critical reflection on how digital technology transforms society.

Parameters for choosing technologies to support teaching design processes and digital empowerment and awareness about safety risks and maintenance requirements.

Reflections on the role of school principals and teacher supervisors that will be change agents at the school and in the lab, and how to organize knowledge sharing between schools and municipalities.

A canvas tool and process design to involve students, parents, politicians, and colleagues and gain commitment from management and a shared vision for the makerspace.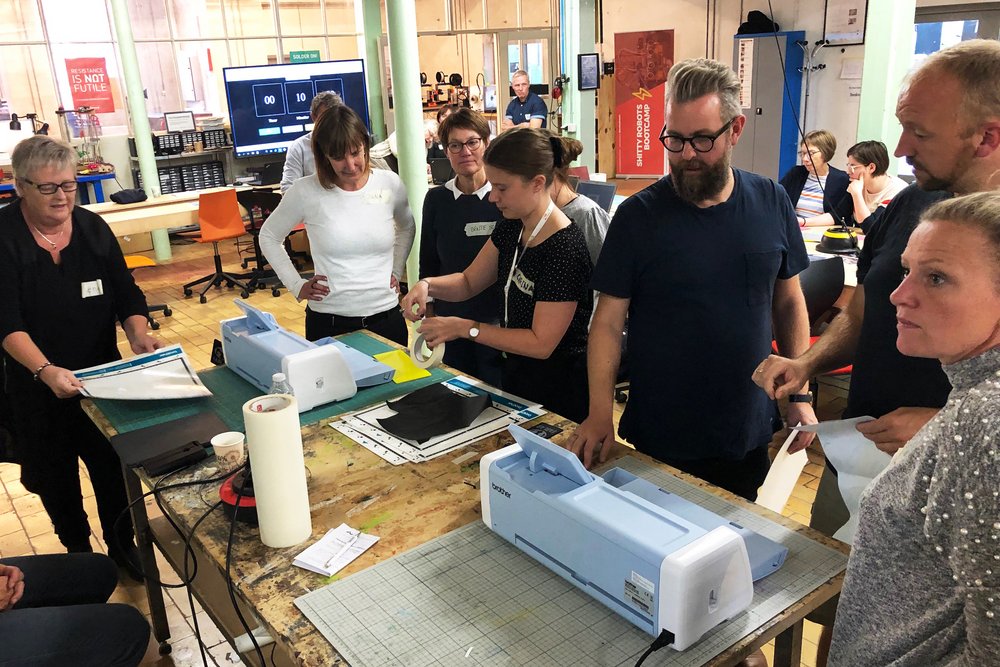 Workshop hand-outs and related research and publications
"A Participatory Design Approach to Sustaining Makerspace Initiatives" in Maker Education Meets Technology Education – Reflections on Good Practices. International Technology Education Studies.
"En designtilgang til Teknologiforståelse".
"Impediments to Digital Fabrication in Education: A Study of Teachers' Role in Digital Fabrication".
Book a workshop
Any municipality can book a 2-day workshop.
Or apply for funding through VILLUM FONDEN # VELUX FONDEN (THE VELUX FOUNDATIONS)

Project Domain of Research:
Primary and secondary education
Project Contribution:
A six-step framework for building a sustainable makerspace at school by including stakeholders based on current research in Participatory Design. The framework draws on principles of stakeholder involvement, infrastructuring and vertical and horizontal alignment. By infrastructure we refer not only to technical structures but to the organisational, political and personal structures that are needed for long-term success of makerspaces.
Research areas
PD, IDC
Funding Partner
Villum Foundation