CCTD talk by Mark Guzdial and Barbara Ericson
Mark Guzdial and Barbara Ericson on Teaching Computer Science to Everyone by Changing How We Teach Computer Science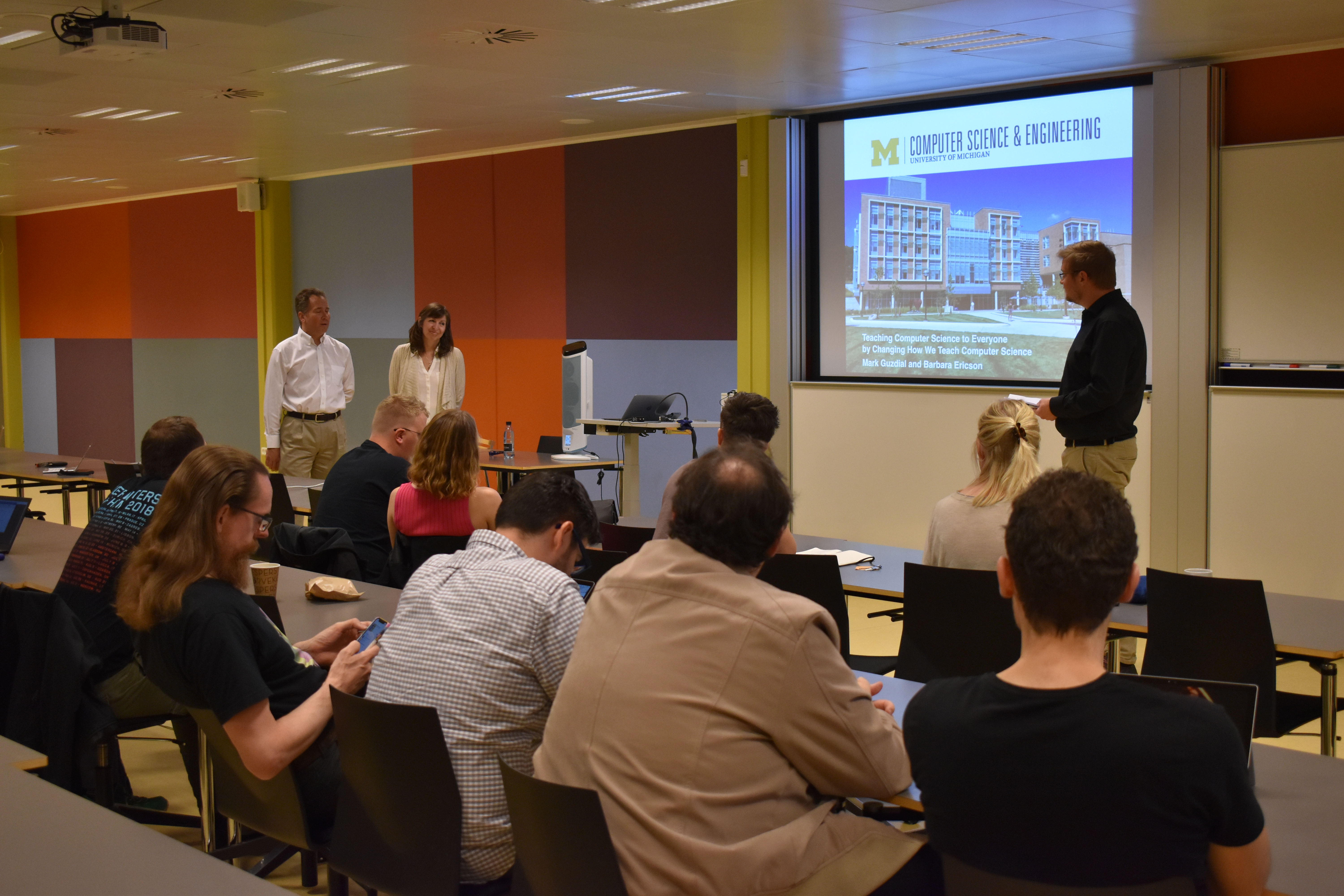 | | |
| --- | --- |
| Date | Fri 26 Apr |
| Time | 14:00 — 15:00 |
| Location | Incuba 5511-022 |

Mark Guzdial and Barbara Ericson, University of Michigan
The inventors of the term "computer science" meant for it to be something that was taught to everyone, to facilitate learning other subjects. Today, we mostly teach computer science to people who want to become professional software developers or computer scientists. If we wanted that more general goal, we would have to change how we teach computer science. In this talk, we review the history of "computer science" and its earlier purpose, describe new kinds of dynamic media for learning computer science, and demonstrate how teaching computer science can look more like a liberal art.
Bio: Together, Mark Guzdial and Barbara Ericson received the 2010 ACM Karl V. Karlstrom Outstanding Educator award, the only time the award has ever been given to a pair. They have written several books on "Media Computation," a contextualized approach to introductory computing
Mark Guzdial is a Professor in Computer Science & Engineering and Engineering Education Research at the University of Michigan. He studies how people come to understand computing and how to make that more effective. He is an ACM Distinguished Educator and a Fellow of the ACM. His most recent book is Learner-Centered Design of Computing Education: Research on Computing for Everyone (Morgan & Claypool, 2015). He received the 2019 ACM SIGCSE Outstanding Contributions to Education award.
Barbara Ericson is an Assistant Professor in the School of Information at the University of Michigan. She studies ways to improve learning in computing. For the last several years she has been contributing to an open-source platform (Runestone Academy) and several free interactive ebooks on that platform. She uses the platform to study low-cognitive load practice problems such as mixed-up code (Parsons) problems. She is also passionate about improving the diversity of students studying computing.